SimpleLogin: keep your email private with aliases!
Do you want to register on a site? Well, you just need an email, and then just choose a password! How many services are we subscribed to with the same email? How many times do we fill in the registration forms, almost automatically, always inserting the same email? The consequence of this easy transfer of our email is usually an inbox full of spam. What if we wanted to subscribe to a site, perhaps of dubious reliability, without introducing ourselves immediately with our email (which perhaps, for convenience, we have created with our name and surname)? In all these cases a mail alias such as those offered by SimpleLogin could be very useful!

SimpleLogin: keep your email private with aliases! Copyright ©TurboLab
SimpleLogin is one of the best services that offer aliases for our email. But what is an email alias? It is an email address generated with a name of your choice to be fed, for example, to the sites during registration; all the emails sent to this new address will still arrive on our usual mailbox but the sender does not know or will never know our real email. This new address can be temporary but it can also last "forever" and we will have the right to decide when to delete this alias.
The reason why I rate SimpleLogin as one of the best email alias services is because of its privacy policy (does not memorize or read e-mails), due to the fact that the source code is open and searchable because it offers a very interesting free plan, with limited aliases (15) but without limitation of sending or bandwidth used because integrates with haveibeenpwned to report immediately if an alias has ended up in a data breach and also because it is possible to reply to an email arrived on an alias address without exposing our real address, directly through our favorite mail program. Another advantage of SimpleLogin is the ease of use on all platforms can be used via browser by accessing the service but we can also use a very convenient add-on for browsers (Firefox, Chrome, Safari, Edge) or the dedicated app on smart devices, either with the bitten apple that with the green robot.
Now let's see how it works in detail, focusing on the web interface and browser add-on; almost all the functions described will in any case be usable directly also through the smartphone/tablet apps.
One time sign in through the site we will have access to our control panel where by default alias will already be active on which we will have the opportunity to receive a SimpleLogin newsletter (which I recommend you keep active because, especially the first newsletters, they reveal all the functions of this service).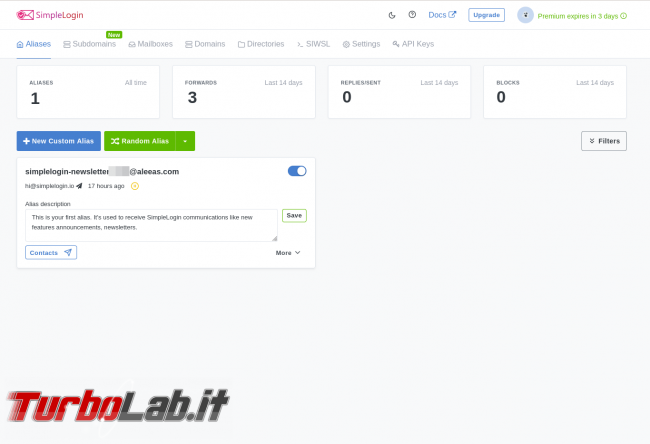 SimpleLogin: keep your email private with aliases! ©TurboLab
For the first 7 days of registration, we will have the opportunity to take advantage of all the functions provided by the Premium plan, which normally costs $ 30 per year, without the need to communicate any data for payment. From the plan comparison image, we can appreciate the consistency of the Free one more than enough for the average user!
SimpleLogin: keep your email private with aliases! ©TurboLab
For create, a new alias can click on New Custom Aliasa new window will open where we will be able to decide a part of the name of the new email (a notice informs us that the second part, after the point, is inserted to avoid that a single person can take all the "nice" names and that this limitation applies only to the free version). You can also choose between 4 public domains (the part after the snail [@]) and we will have the opportunity to enter a description to remind us, for example, for which site or for what purpose we created that alias.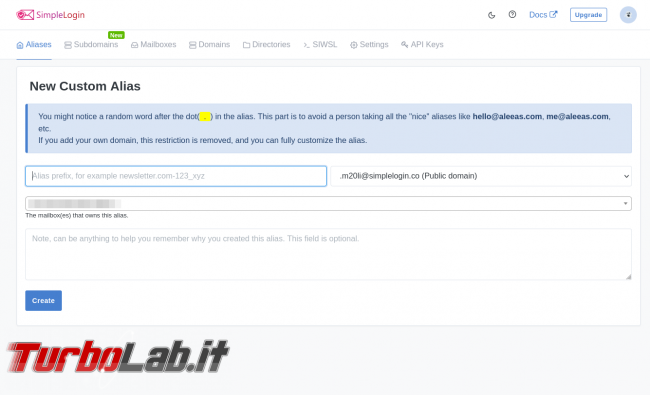 SimpleLogin: keep your email private with aliases! ©TurboLab
If we use the browser extension we can activate the auto-fill function of the email field. In this way, when we find a form to fill out for registration, just click on the SimpleLogin icon placed inside the email field to automatically generate an address which will contain as the first part the name of the site where we have activated this function; the site name will also appear in the alias description.
I have to say that personally I don't really like this direct work and that I deactivated it almost immediately: when I need to create an alias I prefer to do it manually, wasting a few more seconds, in order to decide the name to give to my email alias. Of course, I can always do it through the extension, without having to access the SimpleLogin site! Enough click on the extension icon and we will see that there will already be a suggested email alias but we will have the possibility to change it to our liking before confirming the creation by clicking on Create. Alternatively, we can click on OR create a totally random alias in order to generate an alias with a completely random name.
SimpleLogin: keep your email private with aliases! ©TurboLab
When we don't need an alias anymore or if we start getting a lot of spam on one of our aliases, we have the option to remove it; from the web interface we can click on More in the box of the alias that we want to delete and then on Delete. Of course, you can also delete an alias via extension by clicking on freccetta in basso to access the function we are looking for, Delete.
While we've expanded an alias box, let's see what the other voices are present and what they are for; we will focus on the web interface because it is more complete, but many functions can also be found via the extension. The button Transfer allows us to give our alias to another user, creating a dedicated link to share. We will have the opportunity to pin an alias so that it stays at the top of the list (otherwise the last created will be the first displayed) by activating the switch, we will be able to choose a name to show when and if we reply to an email from our alias (Alias Name) and finally, we can see the summary of forwarded, blocked, and sent emails, complete with contacts by clicking on See all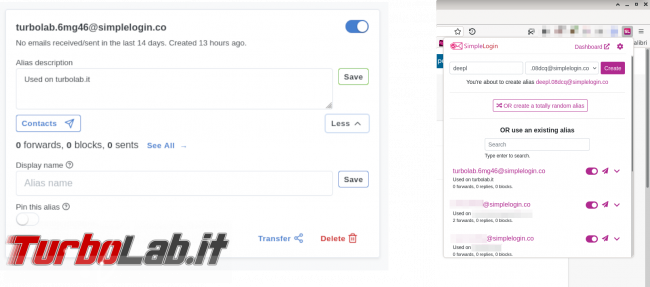 SimpleLogin: keep your email private with aliases! ©TurboLab
An alternative to deleting the alias is deactivation which can be done with the switch clearly visible next to the email address. When an alias is disabled, emails will continue to be received by SimpleLogin and directly deleted, without being forwarded to our private email; in this way, the alias will remain functional and in case we want to receive emails again on that alias in the future, just reactivate it by switching the switch.
Another alternative, available only through the web interface, is the ability to block one or more senders, just like we can do with a regular mail account. The last sender from which we received an email is immediately visible under our alias and we can block it directly by clicking on simbolo di Pausa giallo immediately next to it; if instead, we want to block a sender from which we have received older emails, we can click on Contacts and here we will see all the contacts who have sent us emails and we can block them by switching lo switch interested.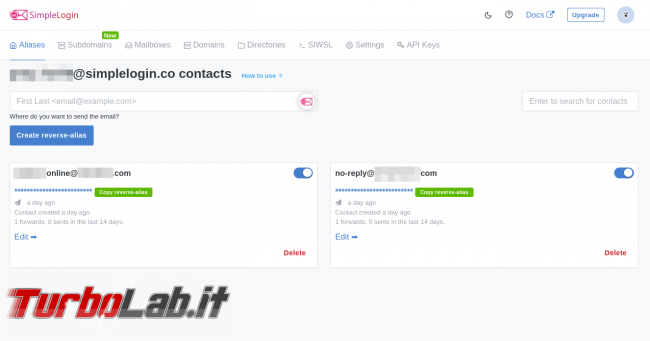 SimpleLogin: keep your email private with aliases! ©TurboLab
The screenshot above gives us the opportunity to talk about how you can send an email using our alias and without exposing our private email address.
You have to create what SimpleLogin calls Reverse-alias; to reply to a contact who has already sent us an email, the reverse-alias will already be available just click on Copy reverse-alias of the contact concerned and paste it in the field A: (or To:) in the mail program we normally use. If, on the other hand, we want to send an email to a contact who has not yet written to us, we can easily create a Reverse-alias simply by writing the contact's email address in the available field. The function of creating the Reverse-alias is also available directly from the browser extension by clicking onicona dell'aereo di carta but the reverse-aliases for contacts already in the address book will not be visible.
We can see how reverse-aliasing works in this scheme: from our private mail account, we send an email to the revers-alias that will be received by SimpleLogin and then forwarded to the recipient, after replacing the header, in order to make our alias be the sender and hide our real email. If it wasn't clear, SimpleLogin has made it available to a video.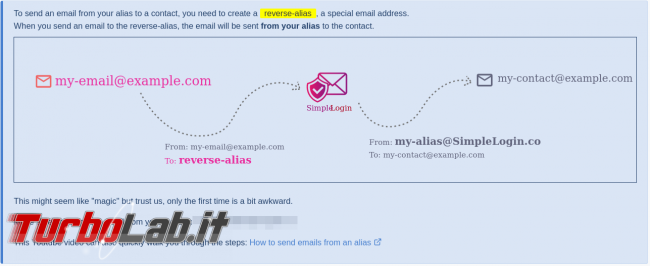 SimpleLogin: keep your email private with aliases! ©TurboLab
SimpleLogin: keep your email private with aliases! Copyright ©TurboLab