How to install Windows on Mac
You switched to Mac a few months ago and you would never go back, but now for work reasons you are forced to use a program for Windows and you would like a hand to install the Microsoft operating system on your computer. Well, I'm happy to announce that you've come to the right place at the right time: if you want to find out how to install windows on mac, all you have to do is take five minutes of free time and follow the directions I am about to give you. How to install Windows on Mac?
Let's start by saying that there are two ways to get Windows on a Mac: the first is to install the operating system in dual-boot with macOS (in order to choose which system to start every time the computer is turned on); the second instead involves running Windows in a virtual machine, that is, in a virtual environment separate from the real system.
The first solution is the most complete, it allows you to have an almost perfect Windows experience, but if you have no particular needs in terms of performance and/or you need the Microsoft operating system only sporadically, you can also "settle" for virtualization. Choose the route that seems to you best suited to your needs and follow it by following the instructions below. I assure you that it will be much simpler than you imagine, you just need a little time to download and install Windows. Happy reading and have fun!
How to install Windows on Mac with Boot Camp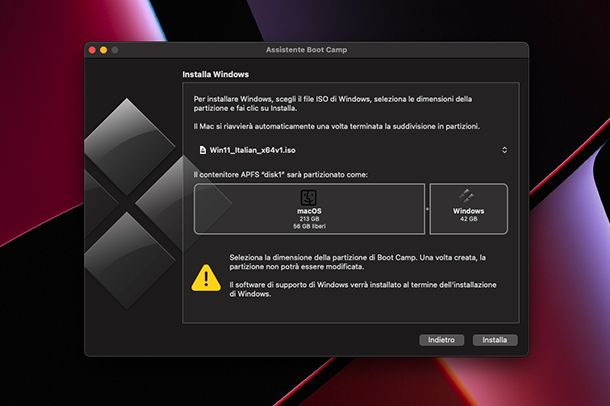 How to install Windows on Mac ©aranzulla
The first solution that I am going to illustrate to you in order to install Windows on your Mac involves the use of the utility Boot Camp, which you find already pre-installed on your Mac. It is a software that allows you to install Windows in dual-boot on Macs equipped with Intel processors (on those with Apple Silicon chips it is not available, as I will explain better later): offers a very simple system to manage the disk space to be allocated to the Microsoft operating system and subsequently install the drivers necessary for its correct functioning.
In short, it is the ideal solution if you think you have to use Windows often on your PC or you need to use software or games that require you to take full advantage of the computer hardware (which in virtualization it is not possible) and therefore you need to have a real machine with Windows.
What do you say? This is the solution for you and you would like to understand how to install windows on mac with boot camp? No problem, I'm here to help you. First, you need to get theWindows ISO image which you will later need to proceed with the Boot Camp configuration: if you don't know how to do it, you can follow my tutorials on how to download windows 10 And how to download windows 11.
After downloading the Windows ISO, open the application of Boot Camp that you find by clicking on the Launchpad in the Dock bar and then opening the folder Other. Once you open the application, you will find yourself in front of its main screen: click on the button Keep it going to continue.
In the next screen you will have to choose how much space to dedicate to the Windows operating system: to do this, just move the indicator on the screen and you will see that moving it towards the macOS partition (to the left) the latter will reduce, while the Windows one will increase: once you have decided the size of the two partitions (which you will not be able to change later, or at least not so comfortably), click on the item Choose a Windows ISO file and from the menu that appears select the Windows ISO you downloaded earlier.
To start the automatic disk partitioning and Windows installation process, all you have to do is press the button Install and confirm the operation by entering the password on your Mac or via Touch ID, if your Mac has it.
After a few minutes, the Mac will restart automatically and the real one will start Windows installation, just follow the steps on the screen to complete the operation. How do you say? Not sure how to proceed with the installation? No problem, you can check out my tutorials on how to install windows 10 And how to install windows 11.
Once you have finished installing and configuring Windows, your PC will boot up showing you the Windows desktop at last. As soon as the system is loaded, the boot Camp installer. Then click on Forward, then put the checkmark on the item I accept the terms of the license agreement, and finally click Install. The software will then install all the drivers your Mac needs on Windows and once finished it will ask you to restart the Mac: just click on the button end to confirm the operation.
How do you say? Would you like to understand how to quickly switch from Windows to Mac? Nothing could be easier, just do it from Windows right-click icon of Boot Camp found in the toolbar at the bottom right, from the pop-up menu click on the item Restart in macOS and then on the button OK. Alternatively, when you turn on your Mac just hold down the key option/alt on the keyboard to start the Boot Camp selection menu, where you can decide which operating system to boot.
How to install Windows on Mac without Boot Camp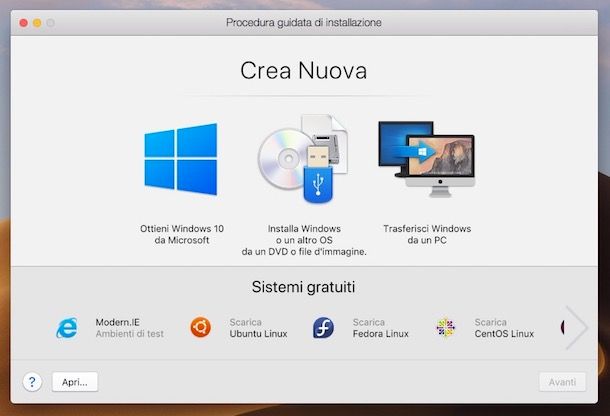 How to install Windows on Mac ©aranzulla
The second solution that I propose to you in order to install Windows on Mac It is best suited if you intend to use the Microsoft operating system more infrequently or need to use it simultaneously while using macOS.
I am referring to the use of virtualization software, through which it is possible to create a virtual machine containing inside it a Windows installation (which, obviously, requires you to have more RAM, as, in fact, two operating systems are running at the same time).
Among the best virtualization programs available on Mac, I would like to point out VirtualBox, free and open-source but which involves some sacrifices in terms of performance and integration with macOS (and at the moment it is not fully compatible with Mac M1), And Parallels Desktop, which is paid but is unbeatable in terms of performance and integration with macOS.
Before proceeding, however, I want to clarify that even in this case you will need to download aISO image from Windows 10 or Windows 11. In this regard, know that if you use a Mac with an Apple Silicon chip (eg M1), you will need to download the ISO image of Windows on ARM.
That said, to download VirtualBox, linked to his official site, click on the item OS X hosts and in a few seconds, the download of the relative package will start dmg. You just have to install the program by launching the relative application and following the instructions on the screen: for all the details and, above all, find out how to install windows on mac with VirtualBox take a look at my tutorial on the subject.
Parallels Desktop a version of the 14-day free trial, after which you will need to purchase a one-off license (€ 79.99, valid only for the current version of the software and for home and school use only) or to take out an annual subscription (€ 99.99 / year, including updates to subsequent major releases and also valid for professional use) to continue using it.
As I said, the main strengths of this product are the high performance (it can also be used for software and games that make heavy use of hardware resources), the perfect compatibility with Windows even on Macs with Apple Silicon chips, and the extreme integration with macOS (e.g. you can transfer files with a trivial drag and drop, invoke Windows applications from macOS and vice versa and much more).
To be able to download Parallels Desktop for free, all you have to do is go to his official site and click on the button Download the free trial version. On the next page, click the button Download now and in a few seconds, the package will be downloaded dmg to install. To proceed with the installation, click on the file you just downloaded and then double-click on the Parallels Desktop icon in the window that opens: now you just have to follow the instructions on the screen to finish the installation procedure.
For more information about it and to understand how to configure a virtual machine with the program in question, you just have to take a look at my tutorial on the subject.
How to install Windows on Mac M1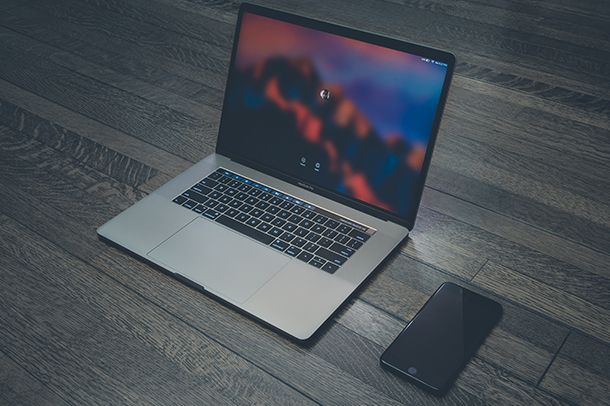 How to install Windows on Mac ©aranzulla
You recently changed your Mac and decided to buy one of the new models that come with Apple Silicon chip (ex. M1, M1 Pro / Max). Now, however, you need to use software that is only available on Windows, so you tried to install Windows on your Mac, but without success.
You originally wanted to use Boot Camp, as I told you in the previous chapter, but sadly to your amazement, you noticed that it is not present on your new Mac. You should know that with the release of the new Macs equipped with ARM-based Apple Silicon chips, Apple has decided to remove Boot Camp support, so it will no longer be possible to use Windows on these Macs with this method.
Now I know what you are wondering: how to install windows on mac m1? In this case the only way available to you is to install Windows using virtualization software as explained in the previous chapter. Furthermore, it is fair to point out that since the processor of your Mac is based on the ARM architecture, it will only be able to virtualize the operating system Windows on ARM, and not the "classic" versions of Windows 10 and Windows 11, which instead are intended for x86 machines (therefore with "classic" Intel and AMD processors).
At least at the time of writing, VirtualBox does not fully support Mac M1 and it is therefore recommended to use Parallels Desktop, which already has everything you need to best configure Windows on Mac with Apple Silicon chip, or UTM, which is cheaper.
Source link: How to install Windows on Mac